Attend the 2nd Annual Mindful Healthcare Summit: A Free Online Event for Healthcare Professionals
September 17, 2020
Learn from 20+ leading neuroscience researchers (including Healthy Minds Innovations founder, Dr. Richard Davidson), mindfulness experts, and dedicated medical professionals sharing practical, evidence-based tools.
The heroic service offered by healthcare professionals throughout the global pandemic deserves not only gratitude, but all possible forms of reciprocal support. That's why we're glad to help spread the word about the 2nd Annual Mindful Healthcare Summit, October 1-5, produced by our friends at The Awake Network and Mindful. 
This FREE online event will support medical professionals in learning mindfulness, self-compassion, and compassion practices for cultivating personal well-being and resilience amidst the unique challenges of this time.
If you or someone you care about is a nurse, doctor, EMT, administrator, caregiver or anyone else working in healthcare, please check it out below and help spread the word.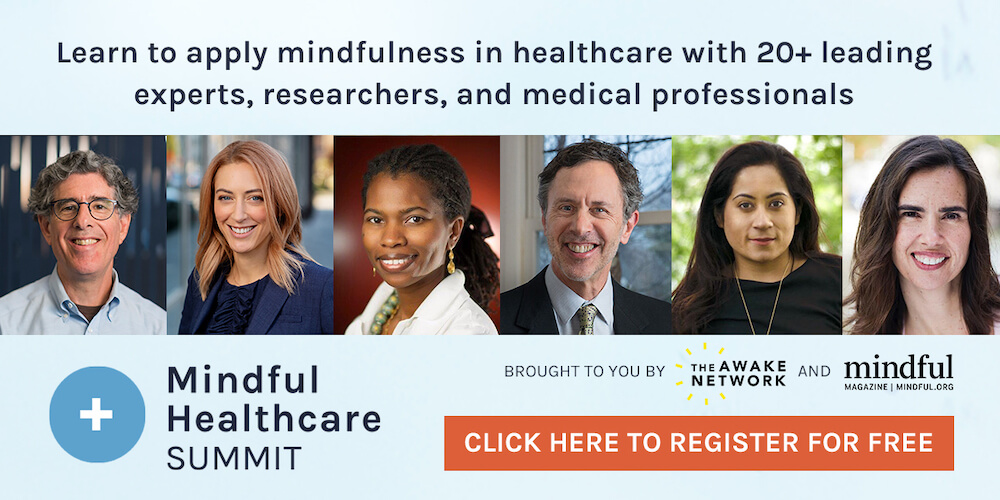 Mindful Healthcare Summit will feature 20+ Leading Neuroscience Researchers, Mindfulness Experts and Dedicated Medical Professionals including: 
Kristin Neff, PhD: Author, Self-Compassion: The Proven Power of Being Kind to Yourself
Cheryl Woods Giscombe, PHD, RN, PMHNP-BC, FAAN: Distinguished professor, mindfulness teacher, and researcher
Richie Davidson, PhD: Founder of Healthy Minds Innovations
Ron Epstein, MD: Author, Attending: Mindfulness, Medicine and Humanity
Kelly McGonigal, Phd: Compassion and Neuroscience Researcher and Teacher
And many others!
These renowned teachers will offer practical evidence-based tools and guided practices for increasing healthcare provider well-being, improving patient care, fostering mindful teams, and helping to address racial healthcare disparities.
Please join us in supporting the medical community by forwarding this email to any healthcare professionals you think may benefit!