Meet the Team Member: Ellis Min
June 2, 2021
Each month, we'll introduce you to the people behind the well-being tools. This month: Ellis Min, Software Engineer.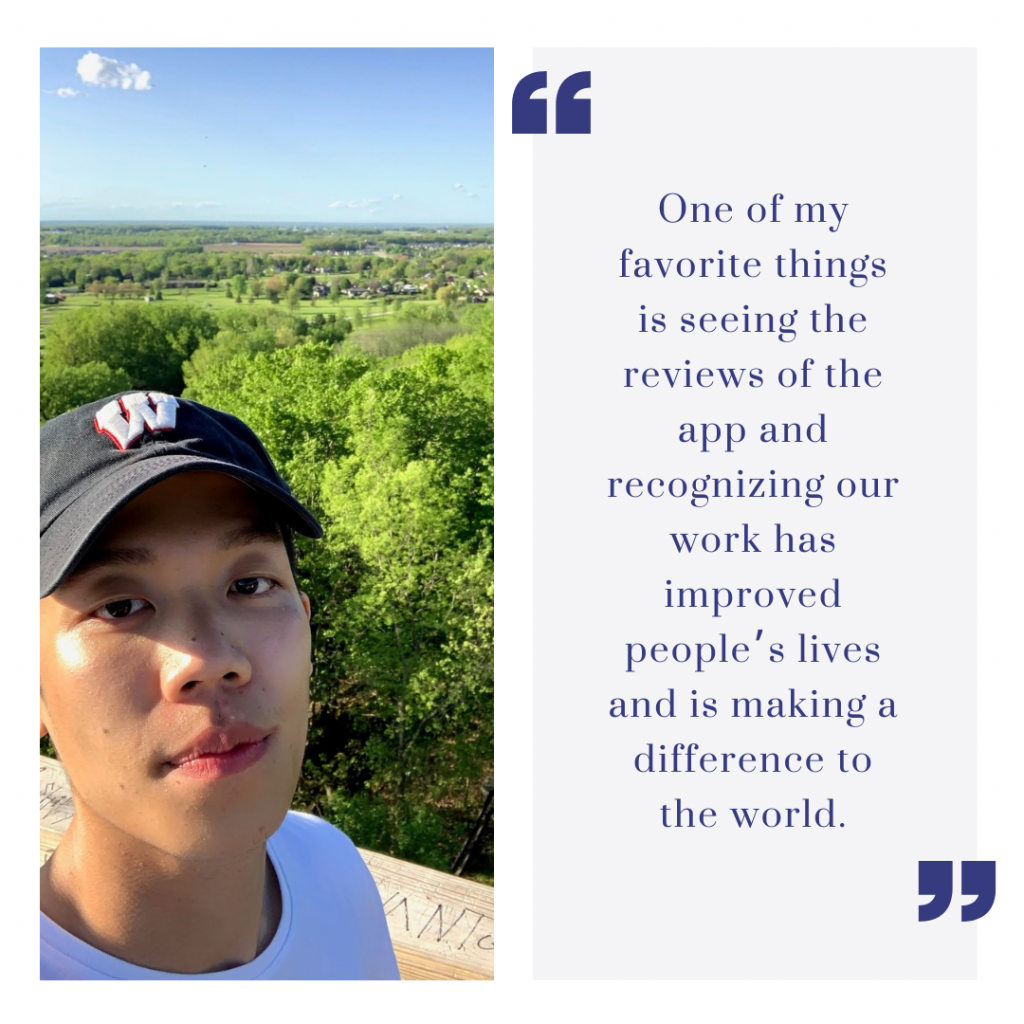 Tell us a little bit about your background, personal and professional before working at Healthy Minds Innovations (HMI)?
I'm originally from South Korea and grew up there until I was 16. When I was 16 I decided to study abroad in the states to explore new and exciting things. I enjoyed studying in the US with its unique curriculum and multicultural environment. I focused on computer science and economics.
After college I joined the US army reserves to explore new things and challenge myself. I spent half a year training and working as a patient administration specialist at a medical unit in Madison.
Before joining HMI and after my military training I worked on some individual projects including creating a website for a local restaurant and creating a website for gamers where they could find other players to play with where they can share codes.
HMI is my first job as a software engineer.
Why HMI?
I've always loved living in Madison since I came here for school. I was looking for a place where my work could have a large impact on its clients or users when I came across HMI's altruistic vision to create a kinder, wiser, more compassionate world. I knew I wanted to be a part of promoting this well-being in the world with the skill sets I have.
What do you do at HMI?
As a software engineer at HMI, most of my work involves improving and maintaining the Healthy Minds Program app as well as creating and enhancing other websites that we utilize to bring more people into the meditation world.
What's the best part of your job?
Being in a position to work closely with technology and tools that are designed and developed by members of the Center for Healthy Minds (CHM) and HMI that are derived by science and research. By doing so I get a feeling that I'm positively affecting people's lives
One of my favorite things is seeing the reviews of the app and recognizing our work has improved people's lives and that our work is making a difference to the world.
What are your hopes for HMI for the future?
I tried meditation for the first time when I was in military basic training but I've never done it regularly until I joined HMI and used the Healthy Minds Program app during the MasterClass. I was surprised by the scientific facts about meditation and mindfulness. Meditation practices actually benefited me in a number of different ways. I started to see more positive things in life and appreciate things more. So the bottom line is that while HMP has already been widely used by numerous people I'd like to see it grow even more so that more people all over the world can use it – and I hope it is beneficial to them as well.
What's a tip for well-being that you can share?
One thing that I do for my well-being is to have a routine communication with people around me – it could be friends, families or coworkers. For me, I've lived apart from my family for over 10 years so I always try to have a conversation with my parents and my brother over the phone at least once a week. After talking to them it's nice to have a sense that they are always there to support me.

Speaking of connection – I also love the meditations in the Appreciation section in the Connection module of HMP, I think it improves the skills of noticing the positive and can shift kinship toward other people.