New Awareness Content to Bring a Richer, More Inclusive Experience to the Healthy Minds Program App
September 5, 2023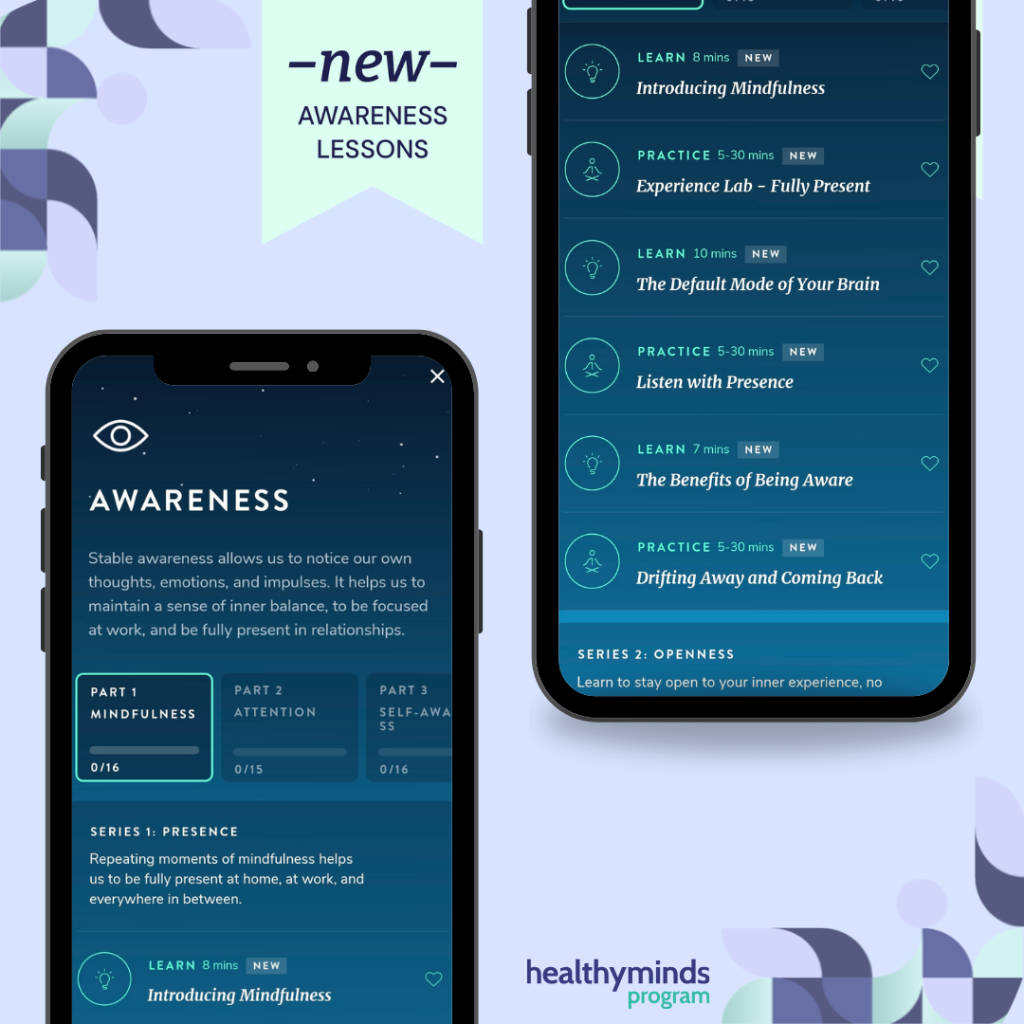 🌟 We just released new Awareness content in our free Healthy Minds Program app! We've collaborated with experts from various backgrounds, cultures, and perspectives to bring you a richer, more inclusive experience.
With evolved lessons + practices, you'll hear from people who represent the beautiful tapestry of our global community while gaining new insight. 🌏
With a focus on expanding the perspectives within the pillar of Awareness, this exceptional collaboration features Dr. Amishi Jha, Dr. Helen Weng, and Dr. Sona Dimidjian as well as world renowned meditation teachers Mingyur Rinpoche and Dr. Jon Kabat-Zinn. 
Woven throughout the lessons are personal stories on motherhood, relationship communication, habit formation, and professional balancing brought to life by our Healthy Minds Guides: Cortland Dahl, Daniela Labra, Jay Vidyarthi, Stephanie Wagner and Ronné Wingate-Sims.
You can learn more about the well-being experts and guides on this page.
———–
Statistics show a sharp increase in mental wellness challenges in recent years, with depression alone affecting 264 million people worldwide. The new Healthy Minds Program content will provide a way for app users to hear from a diverse pool of well-being experts to expand their skills of awareness along their mental well-being journey.
The new practices offer an evolved version of the Awareness curriculum that focuses on experimentation and practical application. With the new "Experience Lab" practices, listeners can use their direct experience as a sandbox to plan and learn from the power of awareness. Cortland Dahl acts as the "podcast host," bringing in these new perspectives to illustrate the scientific and practical applications of developing the skill of awareness.
The new content includes:
27 experiential practices
20 insightful lessons
4 Healthy Minds guides (Cort, Daniela, Jay, and Ronné)
3 new scientists (Dr. Amishi Jha, Dr. Helen Weng, and Dr. Sona Dimidjian)
2 world-renowned meditation teachers (Mingyur Rinpoche and Dr. Jon Kabat-Zinn)
New background music + increased sound quality
If you've already completed the Awareness section of the app, we encourage you to revisit it, where all of the latest Lessons and Practices will say "NEW". The new content will not affect your streaks or session times.