An experience backed by science and designed to improve workplace culture
Now more than ever, resilience and long term coping skills are essential for the modern day professional. Cultivating well-being is key to a stable and productive workplace and individual success. In today's workplace, effective stress management can be just as important as increasing professional knowledge and lead to more effective leadership and team building skills in the long run. Our 8-week intensive MasterClass can change your workplace culture from one of burnout and stress to one of engagement and resilience.
What You Can Expect
An online 16 hour intensive
Your employees will learn our unique approach to well-being and gain practical skills you can apply in both your personal and professional life.
Live group sessions
Employees participate in live sessions that include examples from the field of neuroscience, and practical applications, all via video conference.
Backed by decades of scientific research
Your company learns our unique framework to train the mind in 4 key areas of well-being using meditation, mindfulness, and other contemplative practices.
Learn from industry experts
Learn from instructors who collectively have decades of experience in neuroscience, contemplative studies, and professional development.
Unlock the Healthy Minds Challenge
Unlock the MasterClass version of the Healthy Minds Program app, which includes 500+ hours of podcast lessons and our optional 30 day meditation challenge.
Develop long-lasting skills to help you cope
Your organization gains access to the Healthy Minds Assessment for well-being, including regularly updated reports to both your employees and you to understand areas of need, progress, and return on investment
Invest in Employee Well-Being for the Long Term
Well-being is a skill that can be learned. We'll show you how.
Based on breakthroughs in neuroscience research on meditation by Dr. Richard Davidson, Founder and Director of the Center for Healthy Minds at the University of Wisconsin-Madison, the Healthy Minds @Work MasterClass is based on the understanding that well-being is a skill that can be trained, supporting reduced stress, improved relationships, increased focus, and better health.
Course Overview
Bring this 16-Hour Well-Being Immersion to Your Workplace
8 modules dedicated to: Awareness, Connection, Insight, & Purpose
1.5 – 2 hours per Module
An engaging exploration into the topic of psychological well-being, designed to help participants experience, understand, and apply well-being to their life at work and home. Your company culture benefits as employees deepen connections with one another, leading to shared understanding and shared accountability.
When your employees complete this course they will be able to:
Reduce stress and emotional reactivity

Improve relationships and communication

Gain self-awareness and reduce rumination

Increase focus and concentration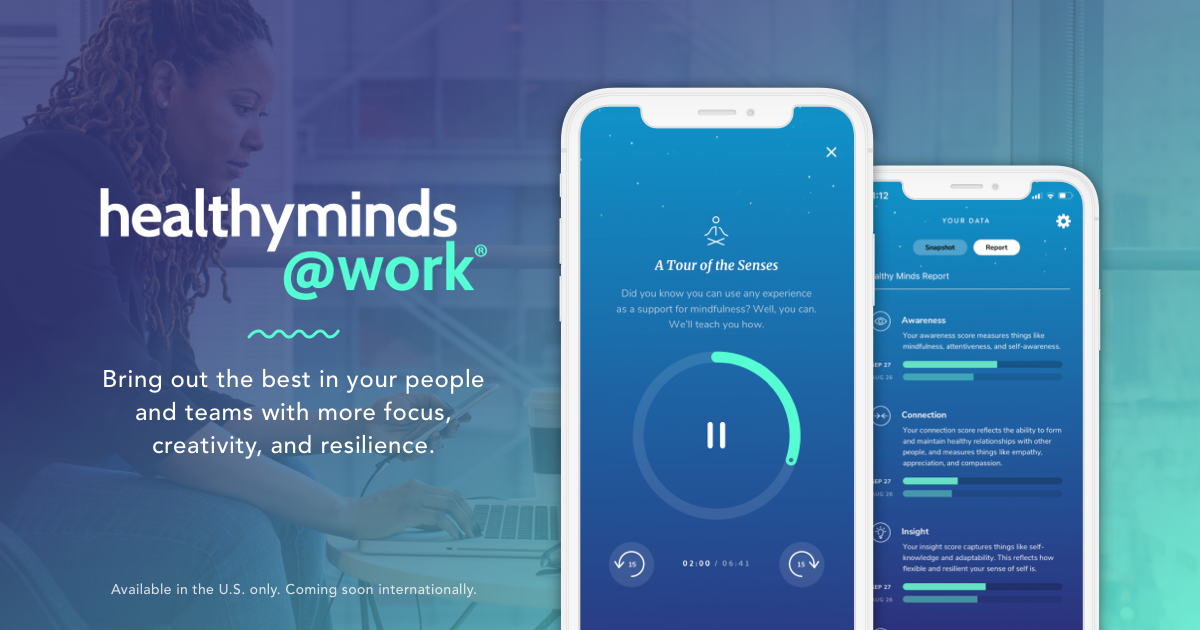 Course Schedule
Introduction 
Well-being is a skill that

can be learned
Neuroplasticity

How to do a seated meditation

4 Pillars of a Healthy Mind: Overview of Healthy Minds Framework

Introduction to the Healthy Minds Habit Formation Mode

App overview
---
Awareness 
Introduce skills of Awareness: mindfulness, attention, and self awareness

Science of Awareness and Why it Matters: Epigenetics

Practicing Awareness as a Skill:

Senses

In conversation

Thoughts and emotions

PARA Habit Formation: Anchoring
---
Connection
Introduce skills of Connection: appreciation, kindness, and compassion

Science of Connection and Why Connection is Important for Well-being

Empathy vs. Compassion

Practicing Appreciation as a Skill

Habit Formation: Using Relationships to Support Creating a Habit
---
Experience Lab 1
Experiment with different ways of practicing awareness and connection–both active and seated

Choosing What Practice to Use

Integrating Skills in Daily Life

Habit Formation Model: Creating a Plan B
---
Insight
Introduce skills of insight: self-inquiry, self-knowledge, and self-transcendence

Learn how to gain a fresh perspective of challenging situations

The Science of Insight: What Gets in the Way of Seeing Ourselves Clearly

Practice Getting Curious about Thoughts and Beliefs

Habit Formation: Set a stretch goal
---
Purpose
Introduce skills of purpose: clarifying purpose, embodying values, and finding meaning

The Science of Purpose: Benefits of purpose on body, mind, and behavior

Explore personal values and learn how to apply in activities in daily life

Learn to leverage values when encountering challenging situations

Habit Formation: Using values as a source of motivation
---
Experience Lab 2
Experiment with different ways of practicing self-inquiry and clarifying values/purpose – both active and seated

Explore sources of inspiration

Learn how to embody values

Habit Formation: Staying Motivated
---
Recap, Integration and The Big Picture
Skill review

Application of skills in daily life

Q & A/Discussion

Resources and how to move forward from here

Habit Formation Review
Meet the Instructors
Daniela Labra Cardero
Daniela Labra Cardero is a founding partner and General Director of AtentaMente, a nonprofit based out of Mexico that brings together professionals from various fields to share mental and social-emotional training techniques with educators and students that are rooted in cutting-edge scientific research. She has been a meditation practitioner for the past 20 years and leverages the latest research on the science of well-being in her work. You can also hear her on the Healthy Minds Program.
Dr. Cortland Dahl
Dr. Cortland Dahl, Research Scientist, Center for Healthy Minds & Chief Contemplative Officer, Healthy Minds Innovations, spent eight years living in Tibetan refugee settlements in India and Nepal and published twelve books of translations of ancient meditation manuals. He then went on to receive a Ph.D. and, with Dr. Richard Davidson, create a new scientific model of well-being. Dr. Dahl is the creator of the Healthy Minds Program and has taught courses on meditation and the science of well-being around the world for over a decade.
Jay Vidyarthi
Jay Vidyarthi's purpose is to nurture a society where powerful tools for self-care and personal transformation are as diverse as the people who need them. His extensive experience designing engaging technologies for mindfulness and well-being has been instrumental in helping create the Healthy Minds Program and the Healthy Minds MasterClass.
Stephanie Wagner
Stephanie is a board-certified health and wellness coach with a passion for mindfulness and meditation with extensive years working in professional development. She is a trainer and program specialist at Healthy Minds Innovations, where she develops and trains content to help people cultivate habits to achieve greater well-being. She is especially skilled on topics related to workplace well-being.
The Healthy Minds MasterClass is a science-based engaging exploration into the topic of emotional well-being – designed to help employees and leadership teams develop skills to enhance resilience, focus, interpersonal skills, and a deeper sense of purpose. As part of a cohort of learners, participants will deepen connections with one another and begin to develop a culture dedicated to organizational well-being.
During this workshop participants will learn:
The four pillars of a healthy mind: Awareness, Connection, Insight, and Purpose

Skills to bolster resilience and flourishing

High level scientific foundations for well-being

Habit formation strategies to try post-workshop
Take your team building and workplace culture to the next level with these effective, small group customized sessions. The Healthy Minds @Work Specialized Team Sessions are the next step in deepening your culture of well-being in the workplace, and is specifically customized for your workplace's team dynamics. Developed out of the Healthy Minds Framework, the team sessions allow space for peer-to-peer learning and discussions with the guidance of our coaching and professional development expert, Stephanie Wagner, NBC-HWC. Learn how to embed a culture of well-being through dialogue, guided meditations and continued, deepened advice on habit formation and real-world applications. You drive the focus, we provide the science, skill-building and contemplative practices. 
It is possible to develop greater resilience for the long-term, regardless of the ups and downs of life.
Even before Covid-19, employees reported increased stress, depression and anxiety, leading to burnout and turnover. Developing the skills for a healthy mind can benefit not just your employees, but your company culture as well. In this course, the experts from Healthy Minds @Work guide you on a path to well-being with a focus on the workplace.