Meet the Team Member: Josie Larimer
November 30, 2020
Each month, we'll introduce you to the people behind the well-being tools. This month: Josie Larimer, Engagement Manager.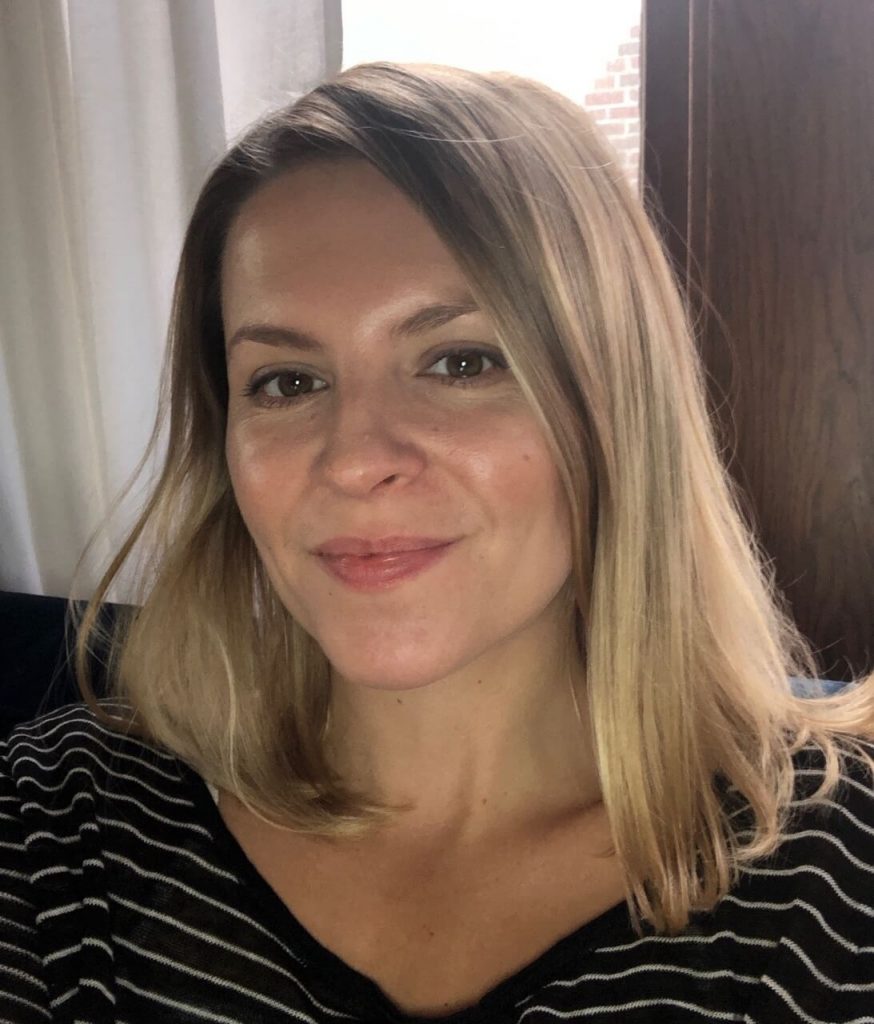 For me, HMI's work is very tangible. You can really see the impact that our program makes in people's lives and that feels really powerful. 

Josie Larimer, Healthy Minds Innovations
Tell us a little bit about your background, personal and professional before working at Healthy Minds Innovations (HMI)?
I'm originally from Indiana and I got a Masters in Arts Administration from Indiana University. Before HMI, I worked in the arts and most of my jobs were in museums, galleries or festivals where I primarily focused on managing events and fundraising. I really liked it, but when I moved from the Bay Area to Madison, WI, I decided that I wanted a change of pace, and perhaps professionally be in a space that was more aligned with my values and personal interests.
What really got me into this world [of meditation and well-being tools] was yoga. I have been practicing since college, I started by taking a college seminar on yoga and I really stuck with it, and found that it helped me be more grounded, and more intune with my body. I found that I really liked the meditative and contemplative aspect of yoga, and this was my entree into meditation as a stand alone practice.
Before moving to Wisconsin, I went to weekly drop-in meditation sessions in the Bay Area and the practices really helped me manage the stress and anxiety I was feeling related to these big moves and life changes I was facing.
Why HMI?
In 2015 I moved with my partner to Madison, WI and started researching companies in the area. I was immediately drawn to the Center for Healthy Minds' mission and vision. I couldn't imagine a better vision than "creating a kinder, wiser, more compassionate world" and the focus of the organization to utilize research to help people around the world live happier, healthier lives through research-based tools and programs.
In 2015, I landed a temporary role with the Center to plan His Holiness the Dalai Lama's trip to Madison in 2016. This was right when HMI was just getting up and running. After the event ended in 2016, I officially moved over to HMI as a project coordinator. It was a really exciting time to join HMI early on because you got a lot of hands-on experience in a lot of areas. We were doing a lot and I had my hands on everything, from program coordination to product development to UX research! I also learned how to build a program from the ground up and, in fact, an organization from the ground up as well.
For me, HMI's work is very tangible. You can really see the impact that our program makes in people's lives and that feels really powerful. 
What do you do at HMI?
I'm an Engagement Manager and that means I get to connect with people and organizations around the world about their well-being needs and challenges and then work with our team to provide the ideal well-being supports to meet these needs and challenges. It's really a partnership and a collaborative approach, so really talking to people about which challenges are coming up for them in the workplace and discussing how their culture could shift to be more supportive of well-being.
Once we understand the challenges and needs we work with our team and the client to develop tools and programs to meet their needs from our suite of products like speaking engagements, the MasterClass, or the Healthy Minds @Work program.
What's the best part of your job?
I really love connecting with people who have personally benefited from mindfulness and meditation and now want to bring it to other people to support their well-being. They play a champion or ambassador role and they are very inspiring and great partners.
I love helping companies make connections between company performance metrics and employee well-being. When people are feeling really good and bringing their best selves to work this leads to benefits for the organization such as  increased engagement, collaboration, and productivity. I like that I can demonstrate that when you invest in your people, you can benefit the organization as well.
When leaders understand the benefits – it's fun to watch as the culture changes over time and how employee and organizational well-being gets embedded in their mission and values.
What are your hopes for HMI for the future?
HMI has adapted over time to meet the needs of the people that we're interacting with and to really identify where we can make the biggest impact. My personal hope is that we continue to bring our tools to people all over the world regardless of socioeconomic background, race, gender, location or language. We want to reduce the barriers to getting access to well being tools, so that anyone can gain resilience and relieve their own suffering.
I think we're on our way there and that's exciting.
What's a tip for well-being that you can share?
For me, the best thing I can do for my well-being is unplug from my computer and gadgets and go outside. I know that I feel the most aware and present in nature so I try to spend time every day outside doing walks, hikes, or bike rides. Throughout the pandemic I've consistently tried to maintain that habit to just get outside every day!
I particularly love the Interdependence with Nature meditation on the Healthy Minds Program app. I do it all the time, and I go back to it whenever I need to feel more grounded and connected.