Meet the Team Member: Annelise Schuler
October 29, 2020
Each month, we'll introduce you to the people behind the well-being tools. This month: Annelise Schuler, Research Specialist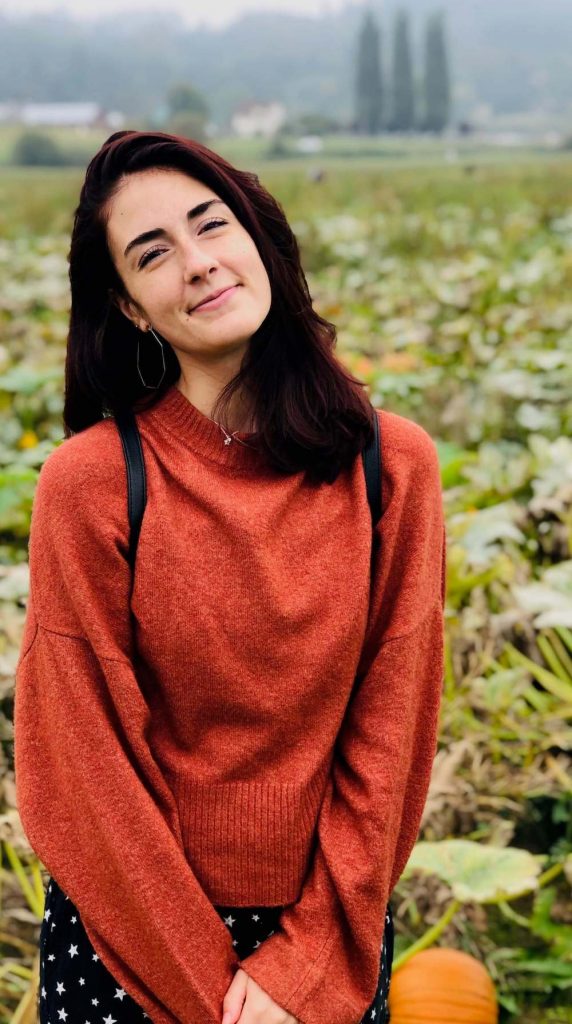 The wellness space is so focused on physical health and not emotional or mental well-being. HMI can really have an impact on the community in this space.

Annelise Schuler, Healthy Minds Innovations
Tell us a little bit about your background, personal and professional before working at Healthy Minds Innovations (HMI)?
Before HMI, I had recently graduated from UW Madison, with a Bachelors in Psychology. I did two jobs in undergrad, one as a Research Assistant at a lab, and the other as a student intern at a local residential facility where I did a lot of co-facilitation for group therapy for women in recovery from addiction. I graduated and started working for a nonprofit which was also a residential treatment facility for adolescents who had developmental challenges. There, I was placed with an adolescent who had a severe history of trauma, and that was a partial cause of her developmental challenges. Because of this adolescent, I dove deeply into studying trauma and the background of trauma, and that's how my passion in mental health and trauma was formed.
Why HMI?
In undergrad I was watching a video of Richie and it was a really pivotal moment in my view of psychology, specifically it was his talk about viewing the mind more positively due to his experience with the Dalai Lama. It was the first time I heard someone ask, "why do we only focus on the abnormal part of the mind, what about the positive aspects?" When I found out about HMI, I found it to be a really unique space that aligned with my interest in the science, but more based in the community. I was impressed with its mission to bring these tools that are based on the research from the center to people in the community to help amplify well-being and the positive qualities of the mind.
What do you do at HMI?
My role really emphasizes talking to people who are the target audience for our programs, services and tools. For the Healthy Minds Program App (HMP) that's talking to the general population of people who use our program, learning from them and their experience and how we can incorporate their feedback into making the program more inclusive, accessible and a better user experience. For the Chan-Zuckerberg Initiative (CZI) project, I talk to teens, getting feedback on the adolescent well-being tools we're creating and ensuring they are relevant and meaningful to teens. (The CZI project is a partnership that provides funding for us to build digital-based tools for adolescent well-being.)
My work overlaps between product and science – both qualitative and user experience research.
What's the best part of your job?
I have to say it's talking to teens. Part of the CZI role includes bringing the teen perspective to the team to make sure the tools are relevant and meaningful. I get to spend a lot of time talking to teens and – it's so fun! They are so interesting and so insightful and so authentic – which is a big difference between talking to teens vs. adults. It's a really refreshing part of my job.
Once you build trust with teens, they are comfortable sharing personal experiences and stories about their own emotional health. Anxiety is huge, and every single teen speaks to it to some degree. A lot of it has to do with the digital age. For teens, connection with their peers is the most important thing and the digital age has changed that atmosphere, impacting them positively and negatively. During this time of Covid-19 and everything else happening in the world it's extremely heightened.
What are your hopes for HMI for the future?
I've always seen HMI's future continuing to reach people in the community and teach them about the importance of psychological well-being. The wellness space is so focused on physical health and not emotional or mental well-being. HMI can really have an impact on the community in this space.
What's a tip for well-being that you can share?
Right now the biggest one that is being forgotten [during Covid-19], is the importance of giving yourself permission to rest. We're such a productive, active-oriented society and that hasn't slowed down since the pandemic. We forget to give ourselves permission to rest and that's needed now more than ever. 
That's my biggest tip – it's helped me tremendously. For example: It's ok that I'm not working out like I used to, it's OK that I'm not practicing the same level of self-care or keeping up with everything. Things are so different; it's important to just give myself that space and time to just rest and not do.